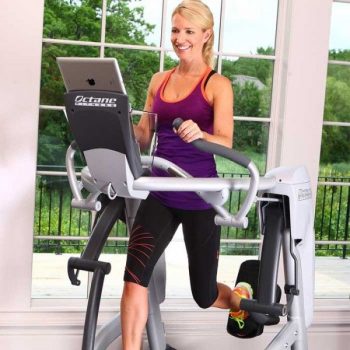 Octane Fitness Zero Runner je osvojio nagradu za inovatora godine!
Na svečanoj večeri "Innovators of the Year", Sporting Goods Business (SGB) proglasio je jednoglasno Octane Fitness, a Nautilus, Inc. Inovatorom godine, i to za Zero Runner®. Dobivena nagrada je tim draža što "ideja Zero runner-a mijenja način na koji trčimo, planinarimo ili se zabavljamo" te što će se ovakav Zero Runner privući i korisnike koji se do sada nisu susreli s ovakvim spravama ili jednostavno nisu voljeli vježbanje u vrhunskim fitness centrima.
StarFitness d.o.o. ovlašteni je distributer Octane Fitnessa, a od nove godine će se na Zero Runneru moći vježbati u Green Goldu Gym-u u Zagrebu.
Izvor: Sporting Goods Business
In its inaugural Innovators of the Year Awards, Sporting Goods Business (SGB) named Octane Fitness, a Nautilus, Inc. (NYSE:NLS) brand, an Inventor of the Year for its unprecedented Zero Runner® exercise machine. The awards celebrate "ideas changing the way we run, hike or play the game," noting that "innovations can set the stage for a new category that goes on to attract millions of previously untapped customers."
SGB award judges recognized Octane "for introducing a zero-impact trainer that actually mimics running," thereby benefitting joggers and runners by alleviating the impact of roughly seven times their body weight when pounding the pavement. In replicating natural strides while eliminating stressful pounding, the unique Zero Runner not only provides recreational and competitive runners with a valuable training tool, but also enables aspiring joggers to safely get started and aging or injured runners to continue enjoying the benefits of running.
"The Zero Runner reinvents running and maximizes its accessibility and comfort for virtually anyone who wants to walk, jog or run," said Tim Porth, vice president, product development and marketing, commercial and specialty, at Octane.  "From non-runners to exercisers to elite runners, the Zero Runner truly is a breakthrough that is encouraging participation in this popular sport worldwide."
Zero-Impact Running™
Octane Fitness offers the ZR7 and ZR8 models for home use, and the ZR8000 for commercial health clubs and fitness facilities. Each features lightweight pedals and independent hip and knee joints to customize natural running motion, with strides up to 58". Handlebars provide various hand positions and facilitate an upright posture, and the ZR8 includes free-moving performance grips to more closely match a runner's arm swing.
The machines also are equipped with digital contact and wireless heart rate monitoring, ANT+, Bluetooth® 4.0 for mobile device connectivity and a deluxe console that displays key running stats.
Octane's exclusive CROSS CiRCUIT® program combines cardio intervals on the Zero Runner machine with strength and stretching exercises off the machine so users can boost overall performance by addressing weak links, correcting muscular imbalances and improving flexibility. The ZR7 and ZR8 also are compatible with the free SmartLink™ app for live stride tracing technology that enables runners to monitor and adjust form as necessary to maintain endurance and speed.
For additional guidance, the SmartLink app also includes training plans such as 5K, 10K, half marathon and marathon, tracking speed, distance, heart rate and more from every session so that runners can analyze results and make changes if necessary.
The Zero Runner machine is sold direct and through authorized specialty fitness dealers worldwide. For more information, visit www.zerorunner.com.
Relentlessly fueled to reinvent zero-impact cardiovascular exercise, Octane Fitness has perfected the elliptical machine, introduced a new category with the xRide® recumbent elliptical, designed strength-infused cardio with the unique CROSS CiRCUIT® program, created exercise in a new direction with the LateralX® machine, reinvented running with the Zero Runner®, optimized cross training with the XT-One™ machine that does it all and is leading smarter training with the SmartLink™ app. Defined by standout innovations, and driven to deliver more effective, efficient and rewarding workouts, Octane is engineering elliptical domination.